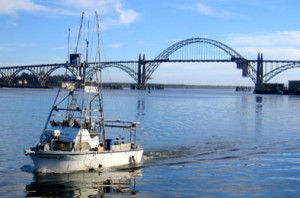 Today, Newport is considered to be the anchor of the Central Oregon Coast. 8,000 residents call Newport home full time — and an equal number of visitors are here throughout the year. Newport has a reputation as "the friendliest" among coastal cities. Newport is home to the Oregon Coast Aquarium, Oregon State University's Hatfield Marine Science Center and most recently it has been designated as the Pacific Home Port for the National Oceanic and Atmospheric Agency.
Commercial fishing and fish processing has been a mainstay of the local economy almost from the beginning. This includes fish of many species, Dungeness crab and shrimp. Timber exporting was a main player for many years as Yaquina Bay is one of the best deep water ports on the Pacific Coast. Learn more about the history of Newport.
Newport is the center of arts and music on the coast with something to please every interest. Our area is also outstanding for its natural features and outdoor activities.
Newport Chamber of Commerce
555 SW Coast Hwy
Newport, OR 97365
1-800-COAST-44 or 541-265-8801
Things to Do in Newport

Hatfield Marine Science Center
2030 S Marine Science Drive
Newport, OR 97365
Phone: 541-867-0271
Oregon Coast Aquarium
2820 SE Ferry Slip Road
Newport, OR 97365
Phone: 541-867-3474
Restaurants in Newport

Arr Place
Local food; fresh and delicious
Wednesday thru Saturday 4 pm – 9:30 pm
Sunday 8:30 am to 1 pm for breakfast only
143 SW Cliff St
541-265-4240
Local Ocean Seafoods
Fresh seafood straight off the boats
213 SE Bay Blvd
541-574-7959
Canyon Way Bookstore & Restaurant
Fine dining in a relaxing atmosphere
1216 SW Canyon Way
541-265-8319
Bay Latte
Best ice cream and espresso on Newport's Historic Bayfront
663 SW Bay Blvd
Newport, OR 97365
541-265-2208
Arts in Newport

Made in Oregon
342 SW Bay Blvd
Newport, OR 97365
Phone: 541-574-9020
Oregon Coast Council for the Arts
and the Newport Performing Arts Center
777 W. Olive Street
Newport, Oregon 97365
541-265-ARTS